[Published in the March / April issue of Rhythms magazine]
IRONCLAD
The Waifs celebrate twenty-five years with eighth record Ironbark, which is dedicated to their many fans, and sees them return to their informal roots, writes Samuel J. Fell
 Think back twenty-five years. Where were you? Who were you with? What were you doing? There aren't many of us who can, firstly, remember, but secondly, claim to have been doing something we're still doing now, having grown it exponentially over the course of a quarter century.
The Waifs can remember what they were doing – forming the band which this year celebrates this silver anniversary. It seems almost too hard to believe, that this trio – sisters Vikki Thorn and Donna Simpson, and Josh Cunningham (bulked out by drummer David Ross McDonald and pedal steel player/bassist Ben Franz) – are still going strong after such a long time. But it's not, upon further reflection, that surprising at all. They're one of Australia's most loved bands, a group whose rootsy bonhomie, whose uniquely Antipodean tales of wanderlust and homeward bound, wind-swept and salt-encrusted, love and casual and barefoot and free, have endeared them to many.
It's actually little wonder they're still going strong.
Thorn, these days based in Utah with her family, cites there being "a lot of love between us and what we do", as the secret to this success and longevity. "We're family," she says, "we love playing music, we love performing music, and we love connecting with people through music."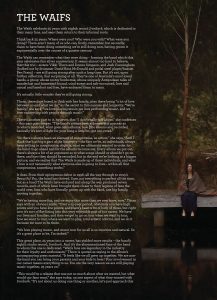 There's another part to it however, that "I don't really talk about," she confesses – this part goes deeper. "The band's always been a democratic process as to what's recorded, what goes onto albums, how [the albums are] recorded, basically it's sort of fight for your song a little bit, get out-voted."
"So there's always been an element of compromise, as artists," she says. "And I think that's as big a part of the longevity – the fact we've, as individuals, always been willing to compromise, slightly, what we ultimately wanted in order for the band to go ahead and for the albums to come out. Every album we put out, there's always a bit of an argument as to what songs should or shouldn't go on there, and how they should be recorded, but in the end we're looking at a bigger picture, and we realise that The Waifs is made up of three individuals, and what I love is not necessarily what everyone else is going to love… within all that compromise, something works."
It does. From their eponymous debut in 1996, all the way through to 2015's Beautiful You, the band have thrived. Sure, not everything is perfect all the time, but as a band The Waifs have endured and along the way produced seven records, each of which have brought them closer to their legions of fans the world over, fans who have literally grown up with the band, one big family, moving together.
"We're having more fun, and we enjoy this more than we ever have, now," Thorn says with an obvious smile. "Over a twenty-five period, obviously you have high points and you have low points, and there's been a lot of both of those, but right now it's sort of flat-lining into this very enjoyable part of our career. We have our lives and families, and then we get to go on tour when we want to tour, how we want to tour, where we want to play, total artistic control, and we do it because we want to be there.
"We love playing music, and music now for us all is so intuitive and natural. So it's a great place to be, I'm stoked."
This great place, twenty-five years into a career, has yielded more results – the band's eighth studio record, Ironbark. And it's the aforementioned fans of the band to whom this one is dedicated. "Waifs fans are legendary in the industry for their loyalty and enthusiasm," Thorn is quoted as saying in the album's accompanying press material. "It feels like we all grew up together. We are now the band you can bring your parents and your kids to hear! Your involvement in our career means everything to us. You are the very reason we are still playing music together, twenty-five years on."
"This would be a release that was not so much about what we wanted, but what would our fans want," she says today, on one aspect of what they wanted with Ironbark. "It's not about us doing one thing or another, lets just approach this like, lets put out a really simple release that's something we think fans would like to hear."
It was this line of thinking that led the three of them to Cunningham's unfinished home on the NSW south coast, where around the kitchen table, in a circle together, they began making this new album; true Waifs style, loose and casual, which as Thorn says, is what they felt fans would like.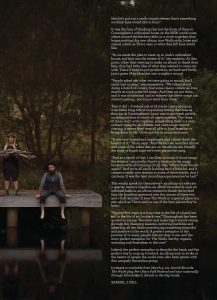 "So we made the plan to meet up in Josh's unfinished house, and that was the extent of it," she explains. At that point, other than wanting to make an album to thank their fans, they had little idea of what they wanted to come out with. There'd been no pre-production, no back-and-forth, just a germ of an idea that was to make a record.
"People asked me, what we were going to record, but I really had no idea," she remembers. "We talked about doing a bunch of covers, find some classic covers we love, maybe re-work some old songs. And then we got there, and it was so informal and so relaxed that these songs just started coming… and it just went from there."
That it did – Ironbark sits at twenty-five tracks (quite apropos), a veritable king-tide of inspiration hitting the three as they sat in Cunningham's home over a two week period, working out how it would all come together. The three of them don't write together, songwriting itself is a very solitary thing for all of them, but once songs started coming, it seems they were all able to bind together to bring them to life. Quite quickly in many instances.
"It was very formal and unplanned, and I think that's the beauty of it," Thorn says. "And the fact we recorded all live and some of the takes that are on the album, are literally the third or fourth time we'd ever played the song.
"And as a result of that, I can hear in some of those songs the tension – musically, there's a tension in the songs because we're all listening [to it], like, 'Where does this go again?' And we're all really holding back a little bit, and it creates a really nice tension to some of those tracks, that I can hear. It was the best recording experience we've had."
The results speak for themselves – an album to celebrate a quarter century together, an album recorded in such an informal fashion, an album created to thank the myriad fans the band has garnered over the course of these two and a half decades. It sees The Waifs in a special place too, one which as Thorn said, is one of the best places they've been.
"Twenty-five years is a long time in the life of a band, but not in the life of an Ironbark tree," Cunningham has been quoted as saying. "Resilient and enduring it stands strong through the changing seasons, surviving hardship and adversity, all the while contributing something beautiful and positive to the world. A perfect metaphor of the journey of so many people that are dear to me, and the most perfect metaphor for The Waifs. Earthy, organic, enduring and Australian to the core."
Indeed, the perfect metaphor to describe the band, and the perfect way to sum up Ironbark, an album sure to strike at the hearts of people the world over, who have grown with this uniquely Australian group.
Ironbark is available from March 3, via Jarrah Records.