[Published in issue #533 of The Big Issue]
THE NEW BLUES
ERIC GALES is a bluesman for the current generation, fusing myriad styles to create something new, as he tells SAMUEL J. FELL
Eric Gales grew up in a household where roots music was king, these old musical forms providing a sonic backdrop from which he's never strayed. Memphis in the 1970s was still a blues, soul, rock and gospel mecca, and it was here that the young Gales soaked it all up.
"My parents would be playing gospel, and my brother, Eugene, he'd be playing blues," Gales recalls on his early exposure to the music he now has flowing through his veins. "Then, [over the years] I was introduced to a whole range of other styles… and I just tried to figure out a way to fuse them."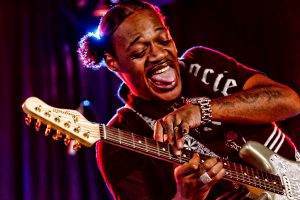 Hailed early on as a child prodigy on the guitar, Gales released his first album as a teenager, a heady melding of a range of rootsy designs with a strong rock presence, a fusion as he says. And this has been his signature ever since – based in the blues yes, the blues will always be number one to Gales, but he fosters a want to explore the myriad possibilities thrown up via hybrids of multiple styles.
"You've got your classic 1,3,5 blues, shuffles and this and that, and that can be restricting," he says on his need to explore. "I like to make it new and fresh… so giving [the blues] a new twist, is something I think will draw in new audiences, new ears and eyes, and if I can be the [champion] for that, then I gladly accept the challenge."
Touring regularly from an early age, spending time behind bars in 2009 on drugs and weapons charges, writing and recording with a slew of collaborators (including Carlos Santana, with whom he may well guest at the upcoming Byron Bay Bluesfest, where both artists are performing), Eric Gales has lived the life of a bluesman; sometimes chaotic and dark, other times triumphant and free, but always following the musical path, imbued within him from an early age, the ethos and philosophies that have been drilled into him ever since.
"For me, it's a combination of both; capturing the vibe of the old days, with the passion of now," he says on what's it like being a bluesman in 2017, a far cry from the days when the likes of Son House, Blind Willie McTell and Big Bill Broonzy were plying their trade. As Gales says however, it's not the time that defines this genre, but the passion that's put into it by whomever is playing it.
"I think I'm managing to do that, combine these two [with passion], in an uncompromising way. Still respecting the old style, but using it as a foundation for the new, 2017 order, a [new] spin."
It always comes back to the "new spin", the fusion – Gales' latest release, Middle Of The Road, his fifteenth studio album, has been described as, not a blues, rock or soul album, but an Eric Gales album, such has this "new spin" become his trademark. And he's pretty happy with that, comfortable within the style he's fashioned for himself.
Middle Of The Road stands as a sort of reinvention for this modern bluesman too, inspired by all he's gone through thus far (ailed H"Just life man, surviving," he laughs, explaining the inspiration in a nutshell). As he says in the record's accompanying press material, "It's about being fully focused and centered in the middle of the road. If you're on the wrong side and in the gravel you're not too good, and if you're on the median strip that's not too good either, so being in the middle of the road is the best place to be."
Tracks like 'Change In Me (The Rebirth)' stand as testament to this, the man and the musician taking stock and deciding on a purer path, not one destined to lead him astray. Middle Of The Road is a freewheeling affair, bouncing from soul to rock to blues and back again, and yet in Gales' hands, it all comes together in a way which doesn't seem disjointed or patched together – such is his understanding of how these myriad styles may conflict, but also compliment.
It hasn't hurt he's brought in a few ringers to help him out too. "Oh man, they made it that much better," he beams, referring to his brother Eugene (with whom he's played in bands for years), Gary Clark Jr, Lauryn Hill and funk legend Raphael Saadiq, to name but a few. "If I have the opportunity to do this again, I'll do exactly the same thing [with the same people]."
Blues/rock behemoth Joe Bonamassa has said of Gales, "[He] is one of the best, if not the best, guitar player in the world." Dave Navarro of the Red Hot Chilli Peppers has also opined, "How [he] isn't the hugest name in rock guitar is a total mystery." Roots music works in mysterious ways, sometimes its best purveyors remaining anonymous to the greater unwashed, and yet it doesn't stop them – Gales is testament to this. A modern bluesman, continually doing his thing, teaching an old genre new tricks, continually reinventing as he goes.
Eric Gales and band make their Australian debut at the Byron Bay Bluesfest, April 13-17.