[Published in the summer issue of No Depression (US) – EXCERPT]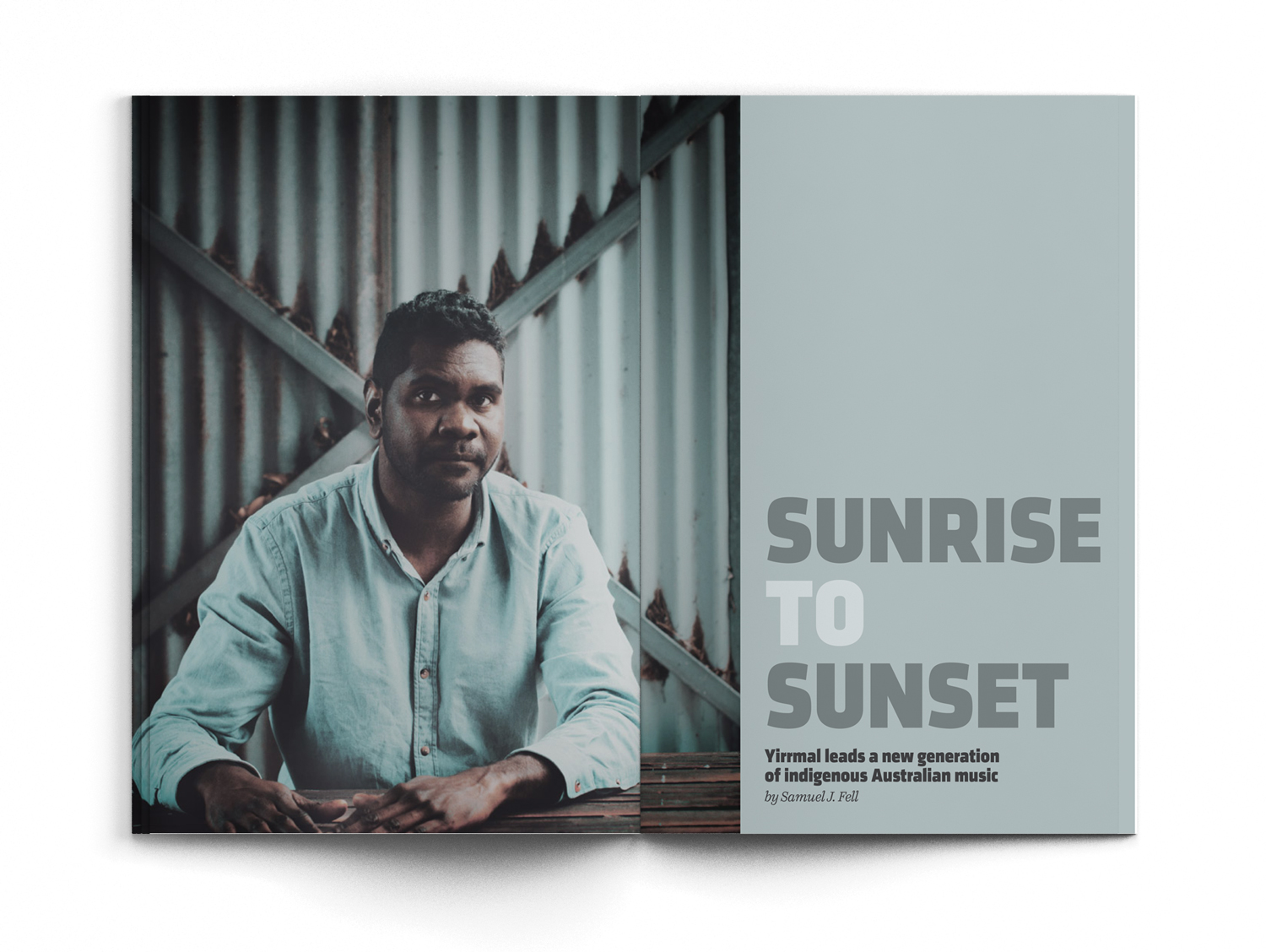 His voice is pure. High and strong, it thrums like taut wire, resonating with a power that belies his young age. At 22, Yirrmal Marika shows signs of a talent set to bloom — a talent that could one day see him placed alongside his mentor Archie Roach, or other seminal artists like Ruby Hunter, Geoffrey Gurrumul Yunupingu, and Yothu Yindi, whose work has come to define an important part of Australian contemporary music and shine a light on often dark parts of Australia's past.
"He's an amazing young musician," muses Roach. "When I hear Yirrmal sing live … it cuts right through you, it's just so powerful."
Last November, Yirrmal released his debut cut, an EP titled Youngblood. In commercial music terms, it's essentially a folk album: largely acoustic, it features storytelling set to a simple sound, with an emphasis on the lyrical content as opposed to the instrumentation. It showcases the young man's emerging songwriting talent, his skill on the guitar, his passion for what he's doing. It's not a release that'll shake the music world to its core, but Youngblood offers a glimpse of what the Australian roots music scene can expect in the years to come. It is a foundation from which Yirrmal will no doubt build as he comes to terms with his talent, solidifies his vision, and immerses himself further into his ancient heritage and its culture and philosophies.
Yirrmal is a Yolngu man, an indigenous Australian. Hailing from Yirrkala, in northeast Arnhem Land on the northern edge of the country — locals call it the Top End — his people have one of the oldest cultures on the planet. It's from this ancient tradition that Yirrmal draws inspiration. It informs his music; it's the fertile earth in which his very being is rooted.
Yet, despite the fact he sings mainly in the Yolngu language — putting to song the stories of time and creation passed down from one generation to the next by his people — he sets his stories to Western folk music. This is where his sound intersects with that of his mentor. Roach, a man of both Gunditjmara and Bundjalung heritage — and one of the most respected musicians in Australia, indigenous or otherwise — is also largely a folk player, and has been since his debut release, Charcoal Lane, back in 1990.
While Yirrmal and Roach are touchstone artists, they're also just two of many indigenous Australians who have combined their storytelling traditions with a Western musical form, whether it be folk, country, blues, soul, gospel, rock and roll, or hip-hop. Indeed, indigenous musicians utilising Western music has become such a part of the Australian music world since it became mainstream here in the early 1990s that it's no longer regarded as odd, surprising, or a genre of its own merely because its purveyors are of a different race. Indigenous culture, after all, is built on the tradition of passing down stories and legends, so this tradition translates well to Western songwriting styles.
"It's just progression," reasons Roach. "Yirrmal especially. His music surrounds a lot of his stories and culture. For years, we've been doing it — it's just an aspect of storytelling or communicating. [Adding] Western instruments, like guitars, keyboards … is just a continuation of that old culture [of] communicating and educating."
…