[Published in the Jul/Aug 2017 issue of Rhythms magazine]
TOMORROW ALWAYS COMES
With the release of his ninth album, LLOYD SPIEGEL opens a new chapter, with help from an old, writes SAMUEL J. FELL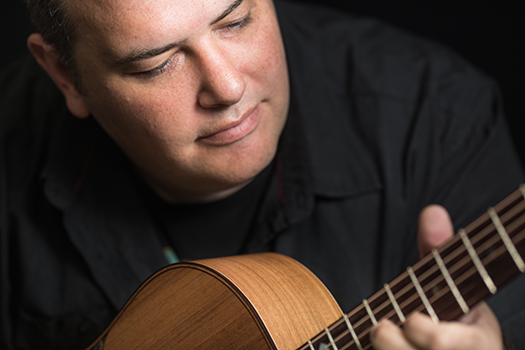 A little over two years ago, Lloyd Spiegel closed a chapter in the already long and detailed book that is his musical life. With the release of 2015's Double Live Set, this most prolific of musicians effectively set free the songs and the show that he'd been performing for the better part of two decades, a final send-off, if you will, of the sonic children that had come to define him.
Spiegel, as an artist, was at a point where he was eager to move on. This isn't to say didn't love those songs, that set, that period of his life, but creatively it was time to chart new territory, and so today, almost exactly two years later, a new chapter has been written; in the form of This Time Tomorrow, said chapter is about to be released into the world – a new batch of sonic spawn that will also, no doubt, come to define one of this country's best guitarists, blues players and storytellers.
"You never know that your kid was ugly until other people start recoiling in horror," he laughs, saying that for the first time, these songs haven't been road-tested prior to being recorded, that while he loves them, no one else knows them. "So I've gone into it a little more unsure of what the album is, but it's a good thing. It's the way I've got to move forward."
Moving forward is Spiegel's modus operandi here, but don't think for a minute that in doing so, he's moved on from his roots. This Time Tomorrow is Spiegel's most bluesy record in a long time ("I have come back home a little bit," he confesses), incorporating within its blues ranks elements of rock and jazz to make an album that's a coherent whole. What moves it forward and makes it so good though, and it is truly an excellent album, is the marriage as Spiegel says, of three elements he's been simultaneously chasing for almost the entire time he's been a professional musician – the combination of fine playing and good lyrics, meshed into the blues form.
"To be able to put lyrics that I'm proud of into a blues groove, has been a longtime goal," he confirms over the phone from Prague, where at time of writing, he's on tour. "I've always been a songwriter, a guitarist and a blues musician, [but] was never able to blend the three together. I'd had albums that were blues albums, or songwriter albums, or guitar albums, so I revisited that concept with this album.
"Songs like 'Devil On My Shoulder' and 'Lost Like Me', they weren't written as blues tracks, they were written… with a minor key, drone thing, they were more singer-songwriter. Until I got back to Kansas City in February, where I re-recorded a bunch of stuff because I reconnected with my foundations which really lie in Kansas City where I spent so much time as a young man. So I actually re-wrote a bunch of this stuff to be more blues.
"When I really got to the heart of recording this album, I realised I wasn't happy with what I was hearing, and what it was missing, was that soul that I have and I know it's in there. So returning to that thumping blues sound freed the songs up immensely. And now I get an album where there's plenty of cool guitar on there, it's a blues record, and my lyrics actually have some importance to them. I feel like I've finally blended those three things."
On the songwriting front, This Time Tomorrow is much more autobiographical than other releases, Spiegel "writing as it happens… this is a much more recent history, I mean, ['Kansas City Katy'] is about Kansas City, in February," he says. "And that's kinda cool, they're current stories."
Current stories from a man starting a new chapter, all the while keeping true to his past with an eye on the future. This is what you can expect from Lloyd Spiegel, from now on.
This Time Tomorrow is available now via Only Blues Music and Spiegel's website HERE.