[Published in Rolling Stone, November 2016]
THE MAGIC OF MULLUM, by Samuel J. Fell
Mullumbimby Music Festival
Mullumbimby, NSW
November 18-20, 2016
You can hear it long before you can see it. A New Orleans-style second line street parade, starting down by the Council chambers, slowly making its way up Burringbar street. It's all brass, trombones and trumpets, the sun reflects off the big silver sousaphone mouth, the drummers start. That sound, that hot and sweaty sound, bounces off shopfronts as the crowd gathers and the tambourines begin to shake.
I'm standing with Hat Fitz and Cara Robinson, I've just interviewed them over a late breakfast, we're about halfway up the street and we can hear it properly now, see it coming. The first wave are twirling flags, there are kids on stilts behind them, sequined costumes glinting in the morning sun, the sound gathering and getting louder. People take every vantage point and the place heaves, the quiet little main street of Mullumbimby alive and moving for the one day a year this happens; most times you come into town on a Sunday morning and there are tumbleweeds – the Sunday of Mullum Fest though, the place is jumping.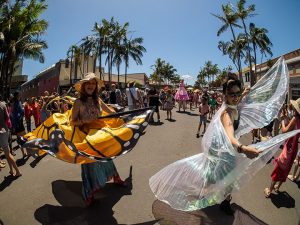 We join the back end of the parade as it makes its way past, strolling down to the corner of Dalley Street, a right turn and we all end up outside the Civic Hall, horns blasting, drums thumping, people are dancing and sweating in the early summer sunshine. We bump into people we know, yelling to be heard, smiles abound and hands are shook and we all stand in the middle of the road, a little community coming together, united by music in this odd little town, tucked away in the Byron Bay hinterland, Mount Warning hazy in the middle distance.
The street parade kicks off the final day of a festival which shares a Shire with some of the country's biggest. Bluesfest, Splendour In The Grass and Falls all run around here, but it's Mullum Fest which is truly the jewel in this area's crown. While not able to boast an international reputation, while only small, while only a three day event, Mullum Fest isn't about the prestige and the pulling power – no, it's about voices rising as one, filling old halls; it's about banjos and mandolins rejuvenating the backrooms of the local RSL, the bowlo; it's about world music and hip hop and rock 'n' roll turning the normally staid high school gymnasium into a musical wonderland, a myriad sounds from all around, filling pubs and halls and all manner of spaces in this little berg, out of the way, off the beaten track – that's why Mullum Fest is so good.
Running for the ninth time this year, there's a lot to explore. Friday night I sit in the gloom and take in Gareth Liddiard's solo acoustic set at the Village Vanguard. His songs are wordy, the acoustic accompaniment minimal, his voice creaks a little and at a glance, it's nothing to take note of, but if you sit and invest the time, you become enamoured with the way he crafts those words, how he weaves tales through it all, how it all starts to make sense. His songs grow large, the stories larger. It's a fantastic set – the man has a knack for creating swathes of power with very little.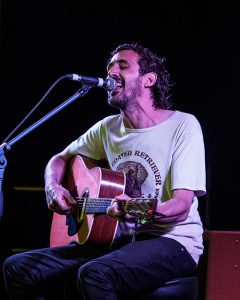 Jordie Lane takes to the same stage next up, a Mullum Feast regular, although he's not been here for a few years. This is his only show with a band – keys, bass, drums – and the first time I've ever seen him wield an electric guitar. Lane's songs are strong too, his writing has strengthened, he's mature now – the music is muscular and powerful, Clare Reynolds harmonises with him, minimal piano accompaniment, her voice is strong and assured too and it melds with Lane's perfectly. He showcases a number of tunes from recent release, Glassellland, along with a slew of older material, all executed with easy aplomb.
At one point I walk through town to the High School to see Hat Fitz & Cara, but am waylaid by Lez Karski on the Bowlo stage, who dishes out wave after wave of Chicago-influenced electric blues. Hat & Cara, by comparison, offer the blues too, but use it as more of a base from which to build. There's a strong gospel element to their music these days, a lot of soul – they also showcase a number of tracks off new album After The Rain, bringing a choir up on stage to help them close out a strong Saturday set.
The Wilson Pickers fill out the Vanguard stage down the other edge of town, five-part harmonies, their songs strong, filling the big room. They don't play too often anymore – all five members carry solo careers, or work with other acts – but they lose nothing with the passing of time, still as solid as ever.
To the Civic Hall and Eilen Jewell, the Queen of Western Swing – the place is full, people overflow into the courtyard where beer is swilled and it's loud and hot. Jewell leads a stellar set, based heavily in country music but with more than a healthy dose of swing, a head-nod to the likes of Bob Wills and Wayne Hancock. Guitarist Jerry Miller is The Man, he's the slinger of the weekend, his solos shimmer like gold, he bends notes to his every whim, a man who knows his way around a guitar and it shows, again and again, a weekend highlight.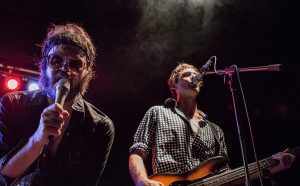 Henry Wagons closes out Friday and Saturday, resplendent both nights in sequins and sideburns, big glasses and country swagger in spades. He leads his new band onward and upward, as indeed, only Henry Wagons can. They cover Springsteen's 'State Trooper' on the Friday, and it's one of those perfect Mullum moments.
Sal Kimber & The Rollin' Wheel inject a solid dose of country soul on the Sunday afternoon; Jordie Lane and Clare Reynolds in duo mode again highlight their uncanny understanding of each other's musical moods; Julien Baker, only 21 years old, holds a full Civic Hall captive with her ethereal voice, minimal electric guitar underneath, one to watch, no doubt.
It all ends far too soon, as most festival weekends do – Mullum tends to move faster than most though, almost too good to be true and so it's gone in the blink of an eye. The town itself, a country hamlet, is half old farmers, half old hippies and this odd melding has, over time, created a place with its own extremely unique charm – only in a place like this, could a festival like this one go down. It's a true community, playing host to a true happening, and as has been the case for the past eight years, this year was a hell of a happening indeed.