[Published on the Rhythms magazine website, November 2015]
By way of explanation – until now, I'd never been to the States. I've grown up listening to the music that was born here, I've grown up listening to music inspired by same. But I've never actually been able to get over here to sample it for myself.
Of course, thanks to the strong festival scene at home, I've seen a myriad acts from the US who themselves grew up listening to, and playing, the music of America – blues, jazz, bluegrass and country – but getting to the source has been uppermost on my mind ever since I started working at Rhythms, back in the early 2000s, doing things behind the scenes for Brian Wise.
He'd come back from New Orleans' Jazz Fest, Austin's ACL festival, a host of others, with stories I could only dream of. I almost got it together enough to head over in 2006, but Hurricane Katrina happened, and so that opportunity passed on. Until now, when my wife Claire and I made it a priority, and so headed over for five weeks to get amongst it, so to speak.
As such, what follows in four installments, are my thoughts and experiences on the four major music cities in the American south, beginning with the Live Music Capital of the World, Austin, Texas.
***
Austin is a hell of a town. Hot and flat, it sprawls over a vast area towards the eastern border of the state, an hours flight west of Houston. For a long time, it's been known as a place where you can find live music any night of the week, a place overflowing with country talent, dark and dingy honky tonks, Tex Mex food by the truckload, dusty cowboy boots Texas Two-Stepping around polished concrete dance floors.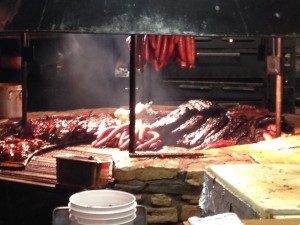 It's also known for its BBQ, and of course, we're not talking the kind of BBQ we know here at home – throw a steak and a few snags on the barbie – but the slow smoked kind of BBQ… ribs, brisket, pulled pork and chicken; add in some 'slaw, potato salad and beans, and you've got yourself a hell of a meal.
Staying with family, who have been living in Austin for a year or so and who know where to look, we head to the Salt Lick BBQ, about half an hour out of town. It's on a big property which also has a tired looking vineyard on it, has a huge outdoor area where one can sit and indulge while listening to some music, set up over in the corner. You get out of the car in the dusty parking lot and you get hit by the smell straight up.
We get a mixed platter – brisket done three ways, pork ribs, sausage. The potato salad and 'slaw are expected and just added onto the side, along with huge chunks of soft, white bread. You sit down and they plonk big styrofoam cups of ice water down on the table, which you need, and big tubs of house BBQ sauce. It's an experience.
The lean brisket I don't really care for – you need the fat on there to really get the flavour. The ribs are great though, the beer is cold, and despite the fact the guy in the corner with the guitar is playing pop covers, it's a place I'd definitely recommend.
A few days later, we head a bit further south to stay with some friends in Lockhart. To be honest, Lockhart isn't a place I'd recommend visiting, there's not a lot going on, but it's a town that has two things going for it – Black's BBQ, and Mario's Tacos. Blacks is a non-descript building in the downtown area that smokes the best brisket you'll ever have. I get around the brisket sandwich, and as I write this, four weeks later, it is indeed the best BBQ I've had all trip. Cheap too.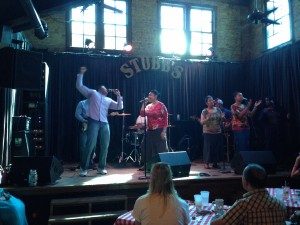 As for Mario's, Mario is a tiny Mexican guy with silver teeth who operates out of a clapped out old truck parked in the lot next to the local servo. He doesn't speak any English, doesn't follow any hygiene rules, but what he does do is make the best breakfast taco you've ever had in your life, for a dollar twenty-five. They're pretty small and I could have eaten three, but I had one and I can still remember the taste. The green spicy sauce as an accompaniment is a must – great stuff.
A couple of nights before this, we'd hit La Caribe, a genuine Tex Mex joint on the northern edge of Austin. It looks like a bunker from the outside, and the ambience inside leaves a bit to be desired (fluro lighting, neon beer signs adorning every available inch of wall space), but their food is top notch. They also have margaritas which have a reputation for being the strongest in Austin – their slogan is that you can't send them back. The waitress even warns you of this as you order. We order anyway, a good time is had by all.
In Austin on a Sunday? Get yourself down to the StubbsGospel Breakfast. Stubbs is an institution in Austin, a legendary music venue, and on Sunday mornings (you need to book), they host a massive buffet breakfast, while a top shelf gospel band hits top gear on the stage downstairs. I fill my plate with bacon, catfish, brisket and beans and tap my feet to the tunes channeling up the stairs. Unlimited coffee refills wash it all down – this is a must do.
As far as the music itself goes, we sample the gamut. I head down to Zilker Park for the second weekend of the Austin City Limits Festival (which you can read about here), three days I barely survive, mainly because of the heat – autumn hasn't yet arrived in Texas. The absolute highlight for me however, came on our second night in town, courtesy of the world famous Broken Spoke.
The Spoke is a genuine tonk. It used to stand on its own on the outer edge of town, but as Austin has grown, at the whim of developers, it's now sandwiched between two giant apartment blocks on South Lamar Boulevard, which is a shame, but which hasn't done a damn thing to dilute its ethos, its appeal, its downright authenticity. It looks like it'll fall down at any second, it smells odd and it's grotty as hell, but it is one of the best music venues I've ever been to in my life.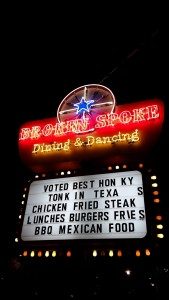 We head in early to take advantage of the Texas Two-Step lesson, which runs for an hour and is hosted by a rough-as-guts Texan woman who ain't taking no shit, but who guides us novices through our paces, and after an hour, we're steppin' around like we've been doing it for years (slight exaggeration). That done, Austin legend James Hand gets up with his band and the dancefloor is swamped. They play real country music, yee-haw, and the packed house loves it. This is just a downhome, red-dirt kinda place, an institution, the 'last true dance hall in Texas', a must for anyone with even a passing love of anything remotely linked to the Lone Star State.
Also recommended is the Continental Club on South Congress (a great little strip with a stack of restaurants, cafes, vintage stores and clubs), which plays anything from country to rock 'n' roll and everything in between. We catch a young band as we wander through one night, their name escapes me, but I'm reliably told by the guy on the door, that the old guy sitting in with them is a Grammy-winning pedal steel guitarist, who's name I don't catch. He's good. The young guys, not so much.
Over at ABGBs (Austin Beer Garden Brewery), we sip on a myriad of their homemade brews and catch a set from a local band called Girl Pilot, who infuse a good dose of well-written pop music into the country mold, a trio who I imagine would slay it on Triple J. Good stuff, something a little different.
A mate of mine, CR Humphrey of Old Gray Mule fame, who lives down in Lockhart, takes us out one night (including to La Caribe), and we end up at King Bees on the rough east side of town (best not to walk around there by yourself after dark…), where we catch about half of The Little Jimmy Reed Band, who take a few songs to warm up but then settle in to a blistering set of Chicago-influenced blues. It's good and loud, the Lone Star beer is two dollars and all is well. Austin is a fine town, you certainly need more than a week or so to fully explore…