[Published on the Rhythms magazine website, November 2015]
New Orleans is a city of stark juxtaposition. Home to the bawdy and loose French Quarter, where good-time bad behaviour is merely a part of the make up, step outside the European styled buildings aligning narrow streets, and you find neighbourhoods the complete antithesis.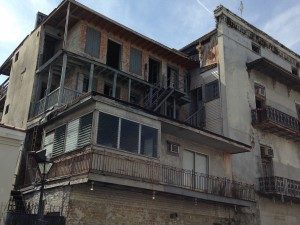 Wide, flat roads and tired looking houses, run down cars and shops with boarded windows. It's confronting in many respects, and seems like a different city from a different time, compared to the more gentrified areas scattered about the Big Easy, one of America's most famous towns.
New Orleans has a pride in itself though, and not the big and loud pride you'll find in Texas, but an understated pride. It's a feeling in the air, unmistakable – the city has suffered its fair share of injustices, and yet its people soldier on, determined to keep living in a city known for living like no other.
We're there for four nights, the first two spent in a room in a small house in the Faubourg Marigny district, slightly east of the Quarter, just over the Mississippi River from Algiers Point. It's an 'up and coming area', home to a growing population of bohemians and artists and amongst the auto shops and fast food joints, we find organic supermarkets, yoga studios and the booming St. Roch Market, a small building boasting a myriad artisan food stalls and bars. We're there for lunch one day, I have the BBQ'd pork belly Po' Boy, an upscale version of a Louisiana classic.
We're only a five minute walk from the top of Frenchmen Street, and this is where New Orleans comes into its own. Just outside the Quarter, Frenchmen's, in comparison to Bourbon Street, is a strip lined with bar upon bar where the focus is squarely on the music, as opposed to the drink. Sure, in any bar on Frenchmen you can tip your beer into a plastic go-cup and wander down to the next joint as you can on Bourbon, but the crowd here is a music crowd and so while loud and loose, it's fun and friendly, conducive to good times, good music, good people.
We stop in at The Spotted Cat and watch Andy Forest blow some harp in between sips from a large cup of Maker's Mark. We stroll south and sit outside Bamboulaswhere Chance Bushman's Rhythm Stompers have everyone in thrall as they knock back five dollar margaritas. The band play a heady mix of rag-time blues and trad jazz, a fine way to ease into a Friday evening.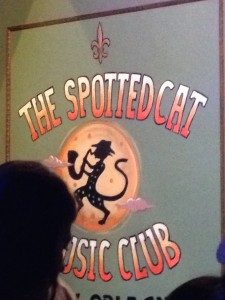 We wander further down Frenchmen onto Decatur Street, which leads into the Quarter proper, and find ourselves in the divey Aunt Tiki's, a black hole of a bar open 24 hours a day, a clutch of regulars sitting down the front, dank and dark, a truly beautiful place where I feel completely at home, joking with the two bartenders (one of whom has had more to drink than I), sipping on Jack Daniels with Budweiser chasers, just soaking up a New Orleans Friday night.
We head back to Frenchmen's at some point and end up at Café Negriland dig on the funk and soul of Higher Heights before calling it a night and heading home, marveling at a scene as alien as any we'd ever seen. It's a street where you can spend a lot of time, and so we're here the night after too, taking in as much music as possible, hopping from joint to joint, not a bad one among the lot – Frenchmen Street has a lot going for it, truly one of the best parts of New Orleans.
The French Quarter itself is indeed something to see. One of the most highly trafficked tourist spots in the world, it's a place that never seems to stop. We wander through at around lunchtime and the place is heaving, people everywhere, most carrying a drink of some variety (whether merely a beer in a plastic cup, or a literal fishbowl of some questionable looking fluro liquid), the party atmosphere almost a physical being.
Bourbon in particular is happening, the smell of vomit and urine from the night before still very much on the nose, hawkers from the myriad bars on the pavement out the front, bands playing loud inside. We hurry through, not really our scene, and find refuge in Jackson Square in Louis Armstrong Park, just north of the action, where we can sit on the grass, read the plaques on the dozens of statues around the place, take it easy in a city where you get the feeling things don't slow down, ever.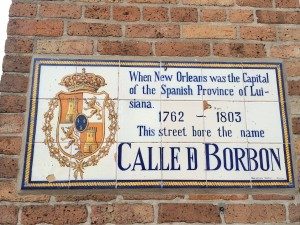 The second two nights in town, we stay at the Maison Dupuy on the northern edge of the Quarter. Built on the site of America's first cotton press, it's now a grand old dame of a hotel, a collection of five buildings grouped around a pool and courtyard, an old time opulence about it that makes it more endearing than high-end. We base ourselves there as we explore the rest of the Quarter, including the historic Voodoo Museum, Café du Monde and the Hotel Monteleonewhich has a revolving carousel bar and serves up audacious cocktails and turns out to be a good spot to watch the more upscale Quarter clientele and watch the LSU game on the televisions about the wood-paneled room.
We spend our final day in town walking from the Quarter to the Garden district, over Canal Street and through the CBD, through the arty Warehouse district which opens up into one of the most genteel places in town, an area of big, old houses sitting on verdant grounds, ancient oak trees lining the pavement, their big old roots jutting through the concrete creating steps you have to navigate with care.
Many of the houses carry historic value, and it seems like we're in another world, one that boasts an easy wealth, a long history and a casual attitude, tucked away from the grotesque action of the French Quarter, a quiet solitude. We wander through Lafayette Cemetery Number 1 too, soaking up the history and enjoying the serenity.
Our final night sees us at the rather impressive Royal Sonesta hotel on Bourbon, sitting in on The Tuxedo Jazz Band's set at the Irvine Mayfield's Jazz Playhouse. These cats know their way around everything jazz, and despite the fact it's a Monday night, they put their all into it, infusing it with a carefree and fun vibe that has the growing crowd getting into it, call and response, high-octane and velvet smooth. This is some real N'Awlins jazz, buy some real N'Awlins players, truly a solid set and a fantastic end to proceedings in The Big Easy, The Crescent City, N'Awlins, where the faint of heart fear to tread, and the rest of us stagger out, sated and full.
Speaking of full, it'd be remiss of me not to mention Gene's Po' Boys, where we stop on the way out of town. These are the real deal, giant sandwiches on French bread full to overflowing with roast beef, cheese and gravy. It's a giant, sloppy mess and as I write this, around a month later, it's still one of the best things I ate, hands down.
Samuel J. Fell stayed at the Maison Dupuy courtesy of the New Orleans Convention & Visitor's Bureau and the Maison Dupuy. He was hosted at Irvine Mayfield's Jazz Playhouse by the New Orleans C&VB and the Royal Sonesta. Thanks to all organisations for their help and hospitality.