[Published in the Jan/Feb 2020 issue of Rhythms magazine]
BURNSIDE AS BURNSIDE
Cedric Burnside comes from storied roots, and while he's his own musician, he's keeping true to the soul of the music that defines him, writes Samuel J. Fell
Cedric Burnside answers the phone, says he's expecting my call. I tell him I've been looking forward to chatting and he smiles, "All right, all right," he says. He's at home in Holly Springs, Mississippi, enjoying some time off after a long year spent taking his brand of hill country blues far and wide. "I'll get to rest up a bit," he says. "Well needed."
Burnside – son of drummer Calvin Jackson, grandson of the legendary RL Burnside, drummer and guitarist and songwriter, currently the man at the centre of Mississippi hill country blues – has been touring hard on the back of his first solo album, Benton County Relic, released in late 2018. It's not his first release by any measure, but it's the first it's just him, it's all on him.
"It's something I always wanted to do," he says on making an album that was his – not The Cedric Burnside Project, not his partnership with Bernard Allison, not anything he ever did with guitarist Lightnin' Malcolm. "I love collaborating with people and stuff like that, but I always knew I wanted to do a solo album. I always knew I wanted to play the guitar like I hear it in my head, and write the songs like I have them in my head."
Benton Country Relic is Burnside and drummer Brian Jay. It was recorded in Jay's Brooklyn studio. It's pure hill country – a heavy percussive foundation, overlayed by driving guitar, repetitious and boogie-fuelled. It's Burnside, make no mistake.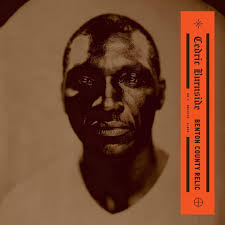 Burnside, ever since he began playing the blues, has been a drummer; indeed, he was drumming in RL's band at age 13, and it's been behind the kit where he's contributed most – with the likes of RL, Jessie Mae Hemphill, Kenny Brown, T-Model Ford, Paul 'Wine' Jones, as well as more contemporary acts like Widespread Panic and the Jon Spencer Blues Explosion. And so a key difference to making this solo record was stepping to the front, and swapping the skins for six strings.
"I always wanted to play the guitar more," he muses. "Of course, I love the drums… but guitar is my newfound love, so I wanted to play it more, and I definitely wrote more songs playing the guitar."
It may come as a surprise to learn that Burnside has been playing the guitar for almost fifteen years, seriously the past seven years. And he's taken to it naturally, which should notcome as a surprise, given his pedigree. "Because I've played drums so much, I've always had to play music to the other guys, and let them do it their way," he explains. "So it's a good thing for me to hear the music like I hear it in my head, and play it like I want to play it."
Benton County Relic(the 'relic' part of the title nothing to do with Burnside himself, but the music: "So many of my friends when they heard this music were like, man, it sounds like something old, back in the '60s."), is the calling card of a man who knows where this music is coming from. There's another record in the works, Burnside looking at heading back to the studio as early as this month, but it bears investigation as to how important it is for him – again, given his pedigree – to keep the torch burning.
"Oh man, it's very important, I don't even have the words to explain how important it is," he enthuses, almost in awe of the position he's in. "I'm not trying to fill shoes, of course, I wouldn't dare try to do that." He briefly name-checks his dad, his grandfather, Junior Kimbrough: "It's kinda hard to fill their shoes."
"But I can make my own mark and keep this music alive, because this is what I learnt from them," he goes on. "It's in my blood… I think they'd be very proud of me to keep it alive, and also not contaminate it with anything, trying to be what I'm not. I am hill country blues, I'm from the old school, and that's how I wanna keep my music."
Burnside tells of his big daddy (his name for RL) playing him Muddy Waters and Fred McDowell records when he was young. "I might have been only one of the grandkids, of fifteen or twenty, who sat there and listened to that music, saying 'What is this?'" he laughs. "It captured my heart; it's what I love the most."
Benton County Relic is available now via Single Lock Records. Cedric Burnside tours Australia in March, see his website for details HERE