Most days, when you first wake in the morning, arising from a deep sleep, there's that blissful second or two of disorientation. That short time where anything is possible and everything is within your grasp, a blank slate to be filled with whatever it is your heart desires.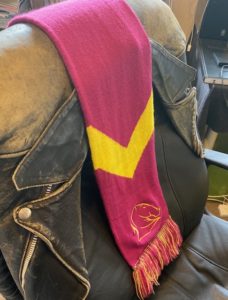 Quickly, of course, your brain sets itself, and the full realisation of what was, and what's to come, crystalises and the day begins. Sometimes, as the fog lifts, something jumps within as you realise the day ahead is one of action and excitement perhaps, a day you've been looking forward to. Other times, naturally, it is the opposite, and the day you've been dreading for some time has arrived and your only wish is for sleep to rise again and reclaim you, presenting that blissful ignorance that blocks out all else.
And so it is with football in general, Brisbane in particular.
The COVID break was the deep sleep. The return of the game after a two month hiatus was that blissful second of waking. The time since has been the crystallisation of all that's happened and all that could be, and indeed, I am waiting for metaphorical sleep to reclaim me. For the realisation is grim, and there's no shaking the fact that this has become a waking nightmare.
Too dramatic? Perhaps. It is just a game, after all. And yet for those of us whose hearts reside north of the border, draped most permanently in maroon and gold, these are nightmarish times to be sure.
And so it continued, on a cold night in Gosford, the dew settling thick on the field, frosty breath fogging thick from the mouths of players on both sides, a continuation of a season that has, almost inexplicably, waned and waned again, the downward spiral beginning to approach the realms of inevitability.
And how could this be? Since their inception in 1988, Brisbane have never really failed. Sure, there have been many times when they've lost, when they've been beaten, when they've not lived up to an extraordinarily high expectation put upon them by an entire state. But they've never sunk as low as this, never seemed so utterly helpless.
It appears, watching from afar, that they barely acknowledge each other's existence, which as anyone with even a sliver of interest in organised sport will know, is hardly a recipe for victory.
Time and again, in the face of a Newcastle attack far from elite, they faltered. They failed to capitalise, to push and push, to counterattack. Time and again, they dropped ball, slipped off tackles, went it alone instead of moving as one. It's incoherent, it's muddled, it's a far cry from the pre-COVID game, an even further one from anything remotely resembling a Glory Day.
Peter Sterling, in commentary, made note of players who only showed up and made good when things were swinging their way. Players with undoubted talent – Milford and Pangai Jr in particular – but whose demeanour on the field was commensurate with the way things were going, not with how they couldbe going. The mark of a good player is turning up at all times, pushing and straining in order to stem, and then turn, the tide. At this stage, Brisbane seem to have precious few 'good' players, and so the tide is surging against them.
This is a culture issue. A culture within the club. A culture which has turned and for reasons known to only those on the inside, is presenting on the field and threatens to tear down all that's been built in the past 32 years.
As such, as we wake from the deep sleep that was the COVID break and revel, for a brief second or two, in the fact that there's actually football, a realisation is slowly dawning. The realisation that this team, this mighty institution, is just not as strong, as brilliant, as all-conquering as we want it to be, and also, that it may be like this for some time.
There is so much promise within the forward pack in particular, and this makes it all the more stark a realisation; on paper, Brisbane are a team to be reckoned with. In the flesh, out there on the park where the game is played and heroes are forged in the deep fire that is indeed, rugby league, they've left us wanting. Inexplicably.
This weekend then, what are we to expect? Brisbane have a run of games now which, on paper again, seem to be tilting towards our favour – Gold Coast, Auckland, Canterbury, Wests. This is an opportunity to restore some much needed morale and confidence, presenting against teams known at this juncture to be easy-beats, or at least easier beats. But can Brisbane step up and meet what is still a challenge?
Theoretically, against teams a little slower and lacking the elite skill being exhibited by the current top outfits, Brisbane will have a chance to exercise fundamental game skills, regain their communication, begin moving as a single unit. For unless they too want to be lumped into the 'easy-beat' category, on a more permanent basis, this is the time to step up, and prepare for what's still to come.
And if not? Then that realisation that's been dawning, coming from the blissful disorientation of the season restart, will become stark reality, and us whose hearts reside north of the border, draped most permanently in maroon and gold, will indeed be living the nightmare too.