[Published in Rhythms Magazine, Mar/Apr 2020)
After more than half a century playing the blues, Jimmie Vaughan is an icon – and he doesn't just play the blues, writes Samuel J. Fell
Jimmie Vaughan's dogs are barking. You can hear them, faint, in the background, running riot on his ranch, a little ways outside of Austin, Texas, where he's lived for years.
It's the ranch that blues built. Somewhere to come and recuperate while not on the road, rest the metaphorical barking dogs. Somewhere to perhaps contemplate over half a century spent grinding out the gritty and muscular version of this music particular to Texas. It's a brand of the blues made famous by the House of Vaughan, Jimmie and little brother Stevie Ray indeed synonymous with Stratocasters wielded in just such a way as to make one think of nothing other than the Lone Star State, and that's just how it's been ever since way back when.
Vaughan is a lot older now, but he's not pulled back. Age hasn't slowed his flying fingers, it hasn't dulled his rockslide voice. Age has, in no way at all, blunted his love of this music, of this feeling.
"What I love about it, is so many things," he says after a pause, thinking on what at face value is a simple question, but that really has depths and depths – what is it about the blues that you love?
"I love the theme, about a man and a woman, about being in love, or not being in love, it's about life. It's the same as a Hank Williams record, you know?
"I mean, you have what we call the head, the head of the song which is the theme, but in the middle, the solos are wide open… [the possibilities] are endless, and it's easy to change as you go along. Your guitar playing kinda moves a little this way, a little that way – you're really playing what you feel, at that moment, that's the plan."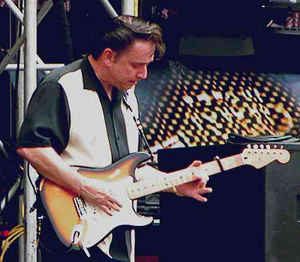 Vaughan talks of these song middles being played "in real time", meaning, in the true spirit of electric blues in general and Texas blues specifically, that they're never played the same way twice, as every time you're playing a song and the opportunity comes up to really move, to ad-lib, as he says, you can go wherever you're feeling you need to go.
Where Jimmie Vaughan has been, in a broader sense, is everywhere. It began for him in Dallas, Texas, where be began to tread the path he's now worn for countless others, back in the late '50s and through the '60s – "If I didn't do this, there wasn't any other plan," he's been quoted as saying. "But even as a kid I knew I loved music, and particularly the blues."
Other bands in Dallas weren't really hitting it for the young guitarist though and so right at the tail-end of the '60s, just after the fabled summer of love (which wouldn't have made too much of an impression in Texas, one would think), Vaughan relocated to Austin, the state's thriving musical hub, and it was here that he began to find what it was he was looking for.
The Fabulous Thunderbirds, the group for which Vaughan is most well-known, debuted in 1974, a group made up of local blues aficionados all schooled at local venue Antone's, a tough and ready blues group who released four albums between '79 and '82 before losing their recording contract, regaining it in '86, and releasing three more albums before Vaughn left the group in 1990.
The Fabulous Thunderbirds travelled the globe, their music, sound and general sonic motif informed as much by Vaughan's guitar as it was Kim Wilson's voice and harmonica. This was, at the time, where Jimmie Vaughn belonged.
Things change though. Vaughan left the group; his younger brother died tragically in a helicopter crash, just after the pair had recorded their first album together; his priorities changed.
Jimmie Vaughan's first solo album, 1994's Strange Pleasure(which contained the Stevie Ray tribute, 'Six Strings Down') was the gateway to a new era of the guitarist's life, an era which has extended and extended, an era still going. Indeed, this is his era, and things are different now.
"When I first started playing, I was in a band that was really working, we were making money," he recalls. "We had to play some of the Top 40 stuff… we were playing at colleges and people like that, they wanted to hear certain things. But now, I get to make a record and just play whatever I want to hear. And usually, there's fans there that like the same kind of thing. That's the difference."
***
Vaughan's latest release is Baby, Please Come Home(May, 2019). It is, in a sense, a tribute album, continuing a trend he's been toying with over recent releases, "a series of albums dedicated to the songs he's always held in high esteem, recorded by artists that inspired him from his very earliest days of performing."
(On how he managed to distil to a mere eleven tracks songs which have had such an influence on him, he says it's relatively easy – first, does he like the song? Second, can he sing it? He and the band then "try a lot of stuff, and if it works we keep doing it, if it doesn't work we don't do it.")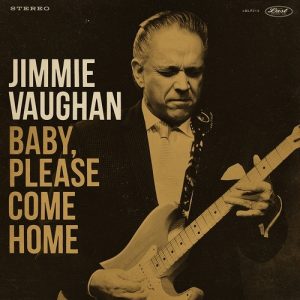 So Baby, Please Come Homeis a tribute, a paean to the players who've had a role, no matter how small, in shaping this iconic player. What's interesting about the track choices then, and if you're familiar with the music of Jimmie Vaughan it's not that surprising, is the range of influence.
Yes, the blues is there. It's there in Clarence 'Gatemouth' Brown's 'Midnight Hour' and Jimmy Reed's 'Baby, What's Wrong'. It's there in Chuck Willis's 'What's Your Name' and T-Bone Walker's 'I'm Still In Love With You'. But there's also R&B, jazz and soul (Lloyd Price, Etta James and Bill Doggett), doo-wop (Richard Berry) and country and folk (Lefty Frizell and Jimmy Donley). It's a mixed bag of influence, all done over with Vaughn's trademark brush.
"I do a lot of old, what they call hillbilly songs," he explains, on something he's always done, not just for this record. "But I do 'em as if I didn't know they were hillbilly."
"I love all that stuff… my uncles, when I was a kid, my uncles on both sides of the family were in hillbilly bands, they played country and western and all those kinds of things," he goes on. "When I was a kid, I didn't really understand the difference. I just think of it as American music, country music, blues, it's all the same thing, really."
Technically then, Jimmie Vaughan isn't really a blues player – as was noted in a recent review of Baby, Please Come Home, "Vaughn completely ignores modern electric blues trends… the past is present and future." So what does he call himself?
"People call me blues, and they understand what it is, so I say yes," he shrugs. "But if you ask me what I'm doing, I'm just playing songs that I really like and that I remember from when I was a kid. And once in a while we write one, which sounds like the old ones."
He breaks off his thought to laugh, like it's funny this music has so seeped into his psyche that he can't help but write like the music he knows and has known his entire life.
"You know, really I'm just doing what I love, that's what I'm doing. And everybody should do that, right? Everybody should do that, everybody should do what they love."
"It's a lot of fun," he then says, steering himself back on topic, still playing this music after more than half a century. "It doesn't get old."
He's right. While the man himself might be getting on in years, while his dogs may be barking louder and more often, the music itself, the playing of the music, the sharing of the music with as many people as Jimmie Vaughan has, does not get old. It's the blues, and in Jimmie Vaughan's hands, it just keeps on keeping on.
Due to the COVID-19 pandemic, Jimmie Vaughn is no longer touring Australia in April 2020. Baby, Please Come Home is available now via The Last Music Co.
Main image credit – Skip Bolan