[Published in the January/February issue of Rhythms magazine]
LET IT RAIN
With their fourth album together, HAT FITZ & CARA have produced their best work yet, a near perfect melding of gospel, soul and blues, writes SAMUEL J. FELL
Sunday morning at Mullum Fest. It's been a stellar couple of days so far, music abounding, booming from pubs and halls up and down the usually languid streets of this small, Byron hinterland country berg. The place is full to bursting, the ninth time this little gem of a festival has run, the colour and vibrancy that always defines Mullumbimby (albeit quietly), accentuated as people flock to one of the best little events this area has to offer.
I'm sitting in the Rock 'n' Roll café, just down an alleyway off the main drag. It's full, people breakfasting late, fuelling up for the final day of music and culture so prevalent here, regardless of whether it's festival weekend or not. The place hums and bustles, wait-staff toing and froing with coffee and bacon, eggs and avocado, the usual morning fare. The sun is out and it washes through the high windows, bathes the scene in early summer light and warmth.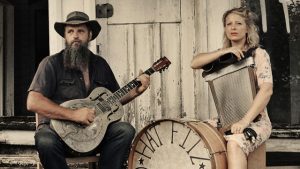 Opposite me sit Hat Fitz and Cara Robinson. They have breakfast on the table in front of them, half empty green smoothie looking things, and as you'd expect, they're exactly the same offstage as they are on it. Hat leans back, ubiquitous work shirt and stubbies, thongs, an old cap atop his head, long beard framing his face. Cara is dressed nice, stylish, glasses and hair just so. They seem, at a glance, an odd couple, but they're a perfect couple. One listen to their music and you know that for a fact.
I'd caught the tail-end of their set the previous evening, over at the High School. They'd easily filled the gargantuan space with their simple-yet-powerful music, building off a blues base and soaring ever higher, incorporating elements of gospel and soul these days; true happy music with a crunch and grind behind it, enough to add the requisite grit and grime one needs when one is playing music like this and it needs to be real. Raw.
This defines their latest release too, After The Rain, their fourth album together and perhaps their best. Both players, Fitz in particular, are known as blues players, but this record is so much more. Yes, of course the blues is where it's based, but it's used as a foundation as opposed to a definition. After The Rain is a solid, considered affair, a musical adventure, one set to paint these two as far more than mere blues players.
"We just fuck around, and shit happens," offers Fitz with trademark candour when asked where the genre-bending that defines this album, comes from. "I don't play nothing I don't like. Cara plays a lot of old soul records, which has got in the back of my head over the years, and so it's starting to come out a bit."
"It's hard to get that sound with the two of us, normally [it's played by] an eight or 12-piece band," he goes on, referencing the soul feel the record carries in spades. "So we're just getting our own little version of it. Absolutely not looking to find a sound, it's just, 'Listen to this, how cool's that?'"
After The Rain came together then, with little planning. It's organic in that the pair spent a good deal of time jamming, obviously influenced by sounds they've been listening to, obviously incorporating sounds they've known all their lives, and so songs began to drip out, bit by bit.
"We'd take the boat out on the lakes, then come back and just play for, like, five hours," Robinson says on how it all slowly unfolded. "We'd record what we played, and you know… there's stuff that sticks. And the gospel influences, we'll pick up these albums along the road like Dorothy Love-Coates, Mahalia Jackson, and a lot of stuff that's raw, where they're just in a church clapping and singing, just a guitar, which is amazing.
"I guess we are going for that energy, that real simple… I don't think anyone is doing that, other than being in a church. And that's not why we're doing it, we're doing it because it makes us feel good, you know?"
Hat, at this point, leans forward and interjects with, "It's interesting, a white guy from Australia, a white woman from Ireland, playing black American music." Cara laughs in agreement: "We've never been in a church in our lives!"
Listening to the album's opening track, 'Going Home', you could be forgiven for thinking otherwise. Not that the song has religious connotation, but the way in which it's delivered is definitely very spiritual. It builds from a languid, fuzzy guitar line, courtesy of Fitz, which marries subtly with Robinson's simple drum beat. Over the top then is Robinson's voice, which rides the groove bareback, lilting up and down, before, towards the end of the song, breaking out in joyous harmony with Fitz's gruffer vocal into a true gospel refrain, the blues coming to the fore briefly before the song finishes up.
It's very powerful, even more so given there are only two of them, and it's a fine pointer as to what the rest of After The Rain holds.
"I wanted to get back to the basics, stripped down and raw," says Fitz when I ask what the pair's MO was with the record. "I like singing backup vocals to Cara, try and get that Aussie, growly backup thing, which is quite unique. I just wanted to get back to basics, that's all I wanted."
They've achieved this for sure – it's just the two of them for a start, along with a subtle smattering of trombone and trumpet, courtesy of David Stephenson, on the title track, and so the songs are indeed stripped and bare. This doesn't detract from the power though – while the songs are, as Fitz says, back to basics, they resonate with a quiet power, which comes from both the music itself, as well as the lyrical content contained within.
"With this album, we still wanted to keep the energy up, but we wanted to tell the story – this is what's going on," Robinson says. "We're looking for things that move you. As a writer, you're constantly collecting lots of information… and you hear other artists, like Suzannah Espie (who is also playing at the festival), when she sings that song about her sister, 'I Wish I Had A Sister', what's the line? 'I wish you knew that you were my favourite work of art'. It's like, fucking hell, it just jumps out at you, and you go, 'Keeping that, that's good', and you're inspired by that."
Both also put the quiet power down to fine producing, citing Govinda Doyle in this instance, who worked on the album with them. The bulk though, comes from the two of them and their playing. The blues comes through on tracks like 'Doing It Again', 'Tank Man' and 'Won't Bow Down', while it's all soul and gospel on 'Going Home', 'Try' and closer, 'Keep'n On'. And, of course, it all melds together effortlessly. This isn't a blues album, a gospel album, or a soul album – no, it's a Hat Fitz & Cara album.
"It takes you a while to find yourself, we're from two completely different backgrounds, it's taken a while to mould it together, you know?" says Fitz.
"It's a wonder it works," laughs Robinson. "Sometimes we're like, 'How does this work?' After seven years though, maybe we're getting a system."
Whatever the system is, whatever the method, however it all comes together, it's working. After The Rain is a fine example of the depth and quality of roots music coming out of this country, executed by two of our finest players – long may that continue.
After The Rain is available now through MGM Distribution.