[Published in The Saturday Paper, July 30/2016]
The fledgling sport of drone racing has pilots viewing the course through cameras mounted on their stripped-down, supercharged craft. Samuel J. Fell meets the US champion, in his hometown of Brisbane.
Like a bat out of hell, the little X-shaped machine, small propellers mounted at the end of each four arms, shoots off into the distance. In a matter of seconds it's no longer visible to the naked eye, although you can hear it, buzzing through the trees at speeds of up to 140 km/h.
It suddenly reappears from on high and like a demented magpie at the height of nesting season, it swoops, pulling up at the last minute and executing a series of barrel-rolls, ripping past the two of us standing on the wooden deck of a house on a hill in Ormeau, just south of Brisbane. It banks sharply, a left turn, and darts back into the bushland, again invisible.
Chad Nowak, standing beside me, is the one controlling it. Via a set of goggles, he sees what his machine sees courtesy of a small camera mounted on its nose, beaming its feed directly back to him. A large silver remote controller hangs from a lanyard around his neck, the machine operated by almost imperceptible movements of his thumbs on the two small joysticks. He brings it back towards us, slowly now, and lands it expertly on the wood next to my left foot, removes his goggles and grins at me. Welcome to the weird, wonderful and relatively new world of First Person View (FPV) freestyle drone flying.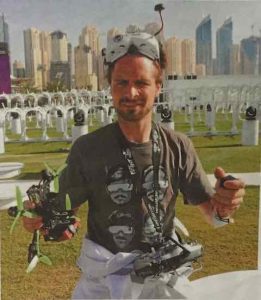 Nowak, Australian born and bred, is the current US Drone Nationals champion, having won the inaugural event last July in California. He's the poster boy for a rapidly burgeoning aspect of the growing drone industry – FPV racing and freestyle. Having flown line-of-sight RC vehicles and fixed-wing gliders since he was 14, the now 37-year-old is in high demand at events around the world: a year and a half ago, he was mixing automotive lubricants in a factory. Today, he has sponsors, fans, and a reputation as one of the world's top drone pilots.
"It's just something so different," he muses when I ask why FPV freestyle and race flying has become so popular in such a short time. "When I go flying out in the park and I'm just flying around, people [see it and] go, 'Oh it's a drone'. Their reaction would be no different if it was a foam airplane or something like that."
"The moment I put the goggles on them though, they go, 'Wow!' It's the same reaction every single time," he goes on. "And that's the best way to explain it – why it's taking off is because of that wow factor. It's like playing a video game, it's like the pod racers in Star Wars, it's that extra dimension that we haven't been able to access until now."
Simon Jardine, head of drone consultancy company Aerobot, has been flying drones longer than anyone in Australia. His company provides advice and builds and modifies custom machines for the likes of the military and Surf Life Saving Australia. As he says, "Right now, technology is racing forward at such a pace, it's hard to keep up. We can fly further, [we can fly] behind obstacles, with zero lag, so it's instant: what you see is what you see."
"You have to have zero latency," concurs Paul Dumais, an aerospace engineer currently building a new prototype for Aerobot. "They've gotta be able to send a signal via a video transmitter wirelessly on a 5.8gigahertz frequency, to his goggles, with zero latency. Or as little as possible. Because if you're doing 140 km/h, a couple of milliseconds [out], you're hitting something."
While talking with Jardine and Dumais, in a park in Byron Bay, I'm handed the goggles and Jardine flies line-of-sight while I see what his drone sees. The speed and manoeuvrability of the stripped-back machine is incredible; it's easy to see how you'd come unstuck if the feed back to the goggles was even a tiny bit out.
Drone racing and freestyle has, in the past twelve months, become big business. The inaugural event Nowak took out was a relatively small affair, but since then the profile of this fledgling sport has grown almost as fast as the accompanying technology. In March this year, in Dubai, the World Drone Prix offered a $1m prize pool. This year's US Nationals in August have partnered with American sports channel ESPN. The World Drone Racing Championships will run in Hawaii in October. The money and the interest are growing rapidly as are, by default, the politics: a number of bodies jostling for control of the fledgling sport.
"Unfortunately, [these bodies] are all just sitting there arguing, and all the pilots want to do is race," Nowak laments. "And we're going, would you guys stop fighting and just let us have some fun?"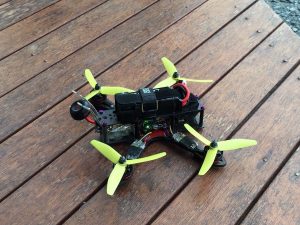 As a result, Nowak and a handful of other top pilots have begun to distance themselves from the organised racing aspect, preferring instead the more renegade freestyle side to a pastime with almost limitless possibilities. "It's kinda the same as skateboarders, they go out there and they make those videos," he smiles. "You've got the rebels that just wanna make the videos and lead the lifestyle, then you've got the guys who wanna go to the competitions. I'm the guy that just wants to be the rebel and lead the lifestyle."
Nowak has just returned from the States where he's been filming episodes of Rotor Riot, a YouTube-based series not unlike Top Gear, but with drones instead of cars. Nowak and a handful of other pilots head to different locations (abandoned warehouses, woodlands, even shooting ranges) and put their machines through their paces, everything filmed and uploaded to an audience of, at time of writing, 34,918 subscribers.
YouTube has proven an incredibly important medium for these drone pilots – Nowak's channel has 17,228 subscribers; US pilot Mr Steele (Steele Davis) has 26,361; and Charpu (Carlos Puertolas), the "godfather of FPV", has 55,289 – it was from the popularity of his channel, that Nowak initially began to attract sponsors, and was invited to the first Drone Nationals.
Drones today are more and more common, being utilised in a variety of everyday situations, from aerial filming to shark spotting. Hobbyists have been flying line-of-sight drones for a number of years now too, beginning with the Parrot AR drone, which could be operated via an iPad, and the DJI Phantom, also relatively simple to control.
These racing drones are a different beast though. Stripped back to maximise speed and efficiency, the tech is incredible. Dumais talks to me about 32bit boards, Electronic Speed Controllers, and software like Baseflight, OneShot and Cleanflight. Jardine is flying a Warpquad 6-Inch on 25 volts – it weighs around half a kilo, flies at a 55 degree angle, has a five minute battery life, and can hit speeds of up to 140km/h. And it's only going to get better.
"In the very near future, perhaps before the end of the decade, the FPV experience will be hyper-realistic," says Dumais. "Like you're actually flying in the drone but on acid. It'll be the combination of high-end computer gaming to provide insane virtual reality tracks, superimposed over real physical terrain." The sky, quite literally, is the limit.
Samuel J. Fell