[Published on the Rhythms magazine website, November 2015]
Having spent a good deal of my younger adult years living in the hip and cool bustle of Melbourne's inner north, coupled with the fact that it doesn't take much to convince me to throw on my old cowboy boots and tap my leather-shod feet to some tonkin' country/blues, for me Nashville was like coming home.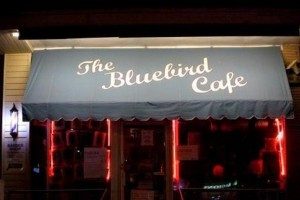 We based ourselves in East Nashville (thank you AirBnB), an area of town that over the past five or six years has blossomed from a working class neighbourhood into a tight-knit community of young families and single twenty-somethings, renovated little cottages on tree-lined streets and, of course, a thriving venue, restaurant, food truck and music scene.
It should be noted that East Nashville is hip as hell. I felt on many occasions over the five days we were there, trolling the bars and eateries, that my moustache wasn't twirly enough (or at all), my skinny jeans weren't skinny enough, and at 35 with no kids, I was far too old. We dove right in, none the less.
Before we got down to exploring however, there were a couple of bucket-list items which needed ticking off, two things which stem from the same place, but which couldn't be further apart.
Our first night in town we head twenty minutes out from downtown to the Bluebird Café, that songwriter's mecca, a tiny little place that for thirty-three years has acted as both a sounding and spring board for countless singer-songwriters, something Nashville has in abundance.
A non-descript little place, located in a strip mall between two hair salons, the Bluebird is an institution. It only seats a hundred people, and seven nights a week presents an early and a late set. Tickets for the week's shows go on sale on the Monday morning, and most are sold out within the hour. People line up outside a couple of hours or so before showtime, hoping to grab one of the last few seats not sold online, or snap up any that have been reserved but that no one has turned up to claim.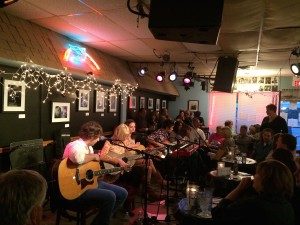 We catch the early show, a Songwriters In The Row session, featuring four local singer-songwriters – Jesse Terry, Michaela Anne, Alex Wong and Lizanne Knot – each playing a song, passing the baton down the line. It's a fascinating way to assess music, each player exhibiting a different style, each player bringing their own strengths and weaknesses to the table. It's a listening room, so people are quiet, respectful. This is where people get their start, and it's exciting to be in a room that holds so much history.
Speaking of history, and in direct contrast to the Bluebird, our second night in town we deck ourselves out in our most outlandish country-wear (including the dark cherry red boots I bought from a second hand joint in Austin), and head to the country music hub of the universe, The Grand Ole Opry. Both the Bluebird and the Opry are, fundamentally, about country music. But they could not possibly be more different.
Where the Bluebird is a quiet listening room, the Opry is big, bold, loud, brash, AMERICA. It's such a blatant change, we can't help but sit through the show with big grins plastered over our faces at the pure and un-ironic fanfare of it all. It truly is an experience, one I can't recommend highly enough, no matter what strain of country music you're into.
The Grand Ole Opry, of course, began as a radio show in the mid-'20s, which makes it the longest running radio program in history. It gained popularity quickly back then, becoming a four-hour program featuring any number of traditional performers, moving in 1943 to the Ryman Auditorium, before settling at its current home, The Grand Ole Opry House, in 1974. The House was seriously flooded five years ago, but it's been restored to its glittering best.
We're treated to a number of musical acts over the two hours, from the glitz and glam of modern, contemporary country – The Willis Clan (a troupe of eleven brothers and sisters who I believe were on America's Got Talent last year); John Rich; and Brad Paisley – to some serious old school country talent from the likes of Jesse McReynolds and the Charlie Daniels Band.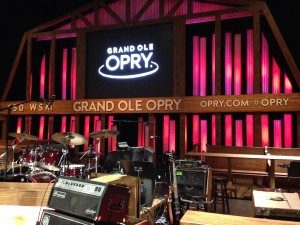 The former group are fine at what they do, but are hardly my cup of tea. McReynolds though, with his group behind him, huddled around the one mic playing the sweetest bluegrass you'll find anywhere replete with perfect vocal harmonies, was astounding. As was Charlie Daniels and his band – man, their version of 'The Devil Went Down To Georgia' was incendiary, Daniels himself on fiddle, he almost set it alight, went through at least two bows during the course of the song – magical stuff.
The biggest crowd response went to Paisley, this is the modern day Opry after all, but as a whole, this was some serious entertainment, something you just don't see over here. We were taken backstage afterwards for a tour too, which is recommended if you're after the history of the place. We headed back to HQ and sat out the back with a couple of beers to debrief – epic stuff indeed.
A good deal of the rest of our stay in Music City was spent exploring both East Nashville and The Gulch, an area just out of downtown that used to be an industrial hub, but which has now been gentrified and is home to craft breweries, artisan distilleries, quirky shops and a myriad music venues.
We stayed well clear of Broadway, Nashville's equivalent of Bourbon and Beale, preferring instead the more downhome style East Nashville offers in spades. There ain't no problem finding good eats in Nashville – The Pharmacy on the edge of EN laid down some serious gourmet burgers; Pomodoro some fine tapas (fancy mac 'n' cheese, good stuff); and Mas Tacos, man, you want good and quick Mexican in the mid-south, this is where you go. Most of these places have a daily happy hour too, good for cheap cocktails pre-dinner, along with any number of arty beers for a couple of bucks. I'm not much of a craft beer man myself, preferring a working man's brew like Bud, Lone Star or Pabst (all basically as close to VB as I could get – I'm a classy guy), but when in Rome…
And of course, Nashville's claim to culinary fame, hot chicken. And by hot, I mean spicy. As we head out on the last day, we stop in at Pepperfire, which is perhaps the most aptly named place we patronise all month. We decide it can't be that hot and so get a serving of chicken tenders extra-hot, potato salad and beans on the side.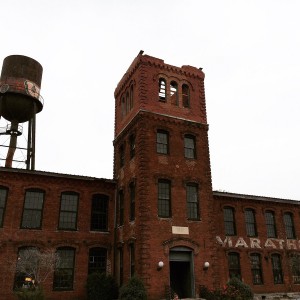 Big mistake – this was so hot, we couldn't finish it. I tried hard, it tasted so good. But I feared permanent damage to my taste buds, and so had to leave some behind. Highly recommended, but note they don't muck around with their spice levels – I'm still sweating.
Music venues, there's a million of them. Just down from where we stay is the Five Points area, a five-way intersection stemming off Woodland Street which offers music in abundance. We have a beer at the Treehouse one night, no music, but we strike gold our final night in town.
The Basement East, a little further out from Five Points, looks like a bunker from the outside, but once through the doors, while it is a bit cavern-like, has the best sound I've heard all trip. We catch the last couple of songwriters showcasing their weekly spots (The Danberrys and another whose name I couldn't catch), before the Sunday Post begins and it's rock band time. We catch about five bands all up, for five dollars, few cold brews, not a band place.
From there, we stroll back Five-Pointsward and sidestep into The Five Spot. Now this place, with its sticky carpet, its dark back-alley ambience, its cheap beer and smoky beer garden, is my idea of heaven. The band playing the late slot are Heath Haynes and a rag-tag bunch of musos and they specialise in tonkin' country/blues with a healthy appreciation for a rockabilly tangent – I've found my people.
We while away our last hours in Music City toe-tappin' and Bud-drinkin', reminiscing on all we've seen over the course of the past month. It wasn't just cities, we road-tripped from New Orleans through Cajun country, followed the river up into Mississippi, stayed in Natchez, Jackson, Indianola, Clarksdale, and from Nashville headed to the Smokys for a few days prior to heading home. I can't nominate a favourite place or part of the trip, but suffice to say, this was a pilgrimage, a savage journey to the heart of the American music. It was wild, it was free, it was untamed and loose and AMERICA. I'd recommend it to anyone.