[Published on the Rhythms magazine website, November 2015]
I'll preface this piece by saying that because of a tight schedule, we only spent two days in Memphis, which I can tell you isn't nearly enough time to delve into the incredible history this Tennessean city is custodian to.
The birthplace of rock 'n' roll and soul music, and the conduit through which most southern blues passed on its way north to places like Chicago, Memphis is ground zero, truly a musical mecca, and a city which wears that tag with pride upon its collective sleeve.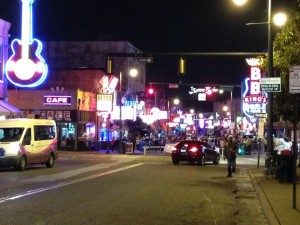 Basing ourselves out of the upmarket Madison Hotel in downtown (a rock 'n' roll haven in itself, having hosted a plethora of touring acts from Radiohead to the Chili Peppers and all in between), we used what little time we had to hit three Memphis-specific areas – BBQ, museums and Beale Street. As one should.
Beale Street is similar to New Orleans' Bourbon in that it's a party strip, lined with a myriad bars and restaurants, all boasting live music and cheap beer – no matter we were there mid-week, Beale Street caters for all comers, seven nights, 365.
Proceedings begin in the beer garden section of Kings Palace Café where a family band – three brothers and a sister on vocals – are encouraging all to write their requests on "the back of a twenty dollar bill" and drop it in the bucket. Then they play it, their repertoire is extensive, and although they lack punch on the quieter numbers, they cook on the faster tunes.
From there we head east, plastic go-cup in tow, and take a seat in the Blues Hall, which is the juke joint section of the Rum Boogie Café. Billed as the last juke on the street, the Hall is a long, narrow room that essentially is as it sounds. We catch the McDaniel Band (all dressed in white pants and red shirts), who lay down a blistering set of Chicago-influenced blues, much to the delight of those wanting to dance – good stuff.
We wind it down by stepping into the Rum Boogie proper and sit in the pavement section and watch it all go by as The Lucky Losers pedal their suave brand of soul/blues inside. Memphis' NBA team, the Grizzlies, have a game just around the corner at the FedEx Forum, and so foot traffic swells at around ten in the evening before tapering off leaving just the mid-week revelers. Good for people watching.
Earlier that evening, it'd been all about BBQ. Memphis is renowned for it, and acting on a hot tip, we headed down to Central BBQ for dinner, an easy stroll down Sth Main Street. This place is an institution, has won a slew of awards, and it's easy to see why. We dig on the pork plate, potato salad and slaw, green beans and big cans of Pabst. It's divine and I wish I had more stomachs so I could go back again and again.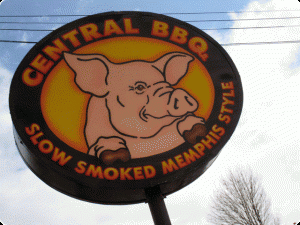 Still on food, and food other than BBQ, our first night in town we were hosted at Eighty3, the restaurant attached to the Madison. I feel I must apologise to executive chef Max Hussey, who I'd met in the lobby earlier in the day, because by this stage of our trip, all I wanted was something simple and familiar and so I ordered steak frites. Most unadventurous.
The food was great though – the restaurant's signature skillet cornbread, probably the best scallops I've ever eaten, a 12 ounce prime ribeye and, on the advice of the chef, deep-fried Oreo cookies and cream to finish it up. The lady behind the bar accidentally poured someone else a Maker's Mark which they didn't want, so she slung it over my way. They know how to look after a weary journo at the Madison and Eighty3, no doubt.
Wednesday day, prior to our Beale Street sojourn, was all about museums, and two in particular – the Civil Rights Museum, which is housed in and around the infamous Lorraine Motel, where Martin Luther King Jr was assassinated in 1968, and the Rock 'n' Soul Museum off Beale.
The Civil Rights Museum, which essentially traces the history of the civil rights movement from the 17th century through to today, is hands down the most comprehensive and emotionally-charged museum I've ever been to. We were in there for three and a half hours and only covered a little over half, such is the depth it goes to, the history it covers.
It hits hard too, we left emotionally drained, the utter horror, fear and complete disregard for humanity reverberating in our minds – from slavery to segregation, Jim Crow, the Freedom Riders, marches to Selma and Montgomery, it's incredible and more than a little sad. And yet there's triumph in there too – the Civil Rights Museum covers it all, I will certainly be back to finish it off.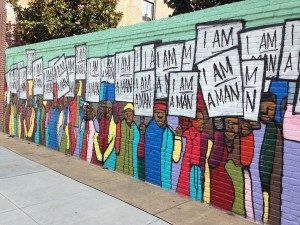 We head from there to Rock 'n' Soul, which by comparison seems lacklustre. It's not, but perhaps don't go and walk through straight after the Civil Rights. It does cover a lot of ground though, from the blues players heading north in the early part of the 20th century, the bustle of Beale Street at the time where players came to 'make it' (including Mr BB King), to the birth of soul and rock 'n' roll over at Sun Studios. It's only a small museum, but it does a good job of keeping things precise, giving you a nice overview from which you can then explore in more depth by heading to Sun or Stax or one of the many other musical museums in town.
Speaking of the former, on our way out of town on the Thursday morning, we make the detour and stop in at Sam Phillips' Sun Studios, a little way out of downtown, along Union Avenue. Writing this a couple of weeks later, at the end of a five week trip through the deep south, I can say that Sun was my favourite place of all.
It looks like nothing, from the inside and out. A small, non-descript building with a little diner / gift shop in the front, a tiny museum upstairs and a recording studio out the back, it could just be some dive somewhere. It looks old, tired, bland, particularly the studio.
But it's not. It throbs with an intensity. It positively shakes with history. It leaks it all over you.
I stand on the same black gaffa 'x' on the floor where Elvis stood when, in a desperate last-ditch effort to get Phillips' attention, he started strumming Arthur Crudup's 'That's Alright Mama', in that fashion that essentially started rock 'n' roll. I see the cigar burn on the lower E key on the piano, from Jerry Lee Lewis' cigar. There's a giant photo on the wall of Elvis, Carl Perkins, Lewis and Johnny Cash, all in the studio at the same time, just hanging out. It happened just over there, on those nondescript plastic floor tiles, the same ones that Phillips laid himself.
The place is magic, pure magic.
And so our short stay in Memphis comes to an end. There's so much more to see in a city that's full to the brim with musical history, and I'll definitely be back. If you're in any way partial to basically any music whatsoever, then I suggest you do the same.
Samuel J. Fell stayed at the Madison Hotel courtesy of the Memphis Convention & Visitor's Bureau and the Madison Hotel. He was hosted at Eighty3 by the Memphis C&VB and Eighty3. Passes to all museums were courtesy of the Memphis C&VB and the respective museums. Thanks to all organisations for their help and hospitality.