[Published in the the Sep/Oct 2017 issue of Rhythms magazine]
REMEMBERING DR. G YUNUPINGU
Over the course of the past decade, Rhythms senior contributor SAMUEL J. FELL has written about, and spent time with, DR. YUNUPINGU on multiple occasions – he shares observations on an artist Rolling Stone called Australia's Most Important Voice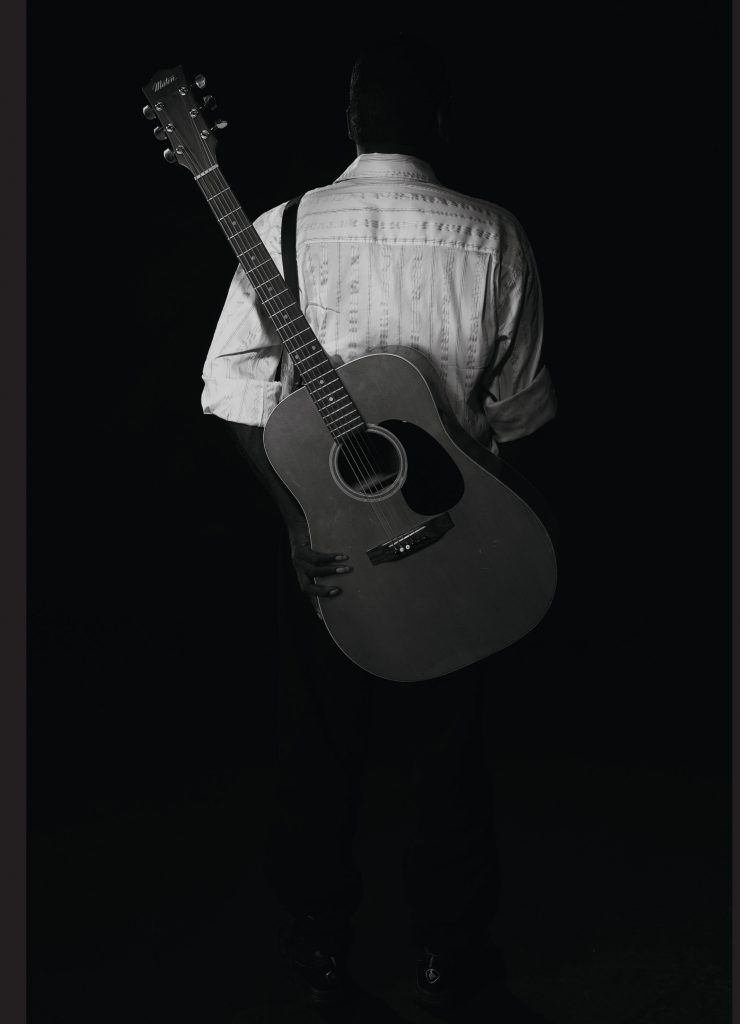 It's close to midnight, July 2010, and it's cold, more so than usual for sub-tropical Byron Bay. Dr. G Yunupingu and I are standing outside Studio 301, smoking a cigarette together. His keeps going out and so I've relit it for him once or twice, fumbling in my pocket for the lighter each time.
We're not talking much. I've told him how I'm enjoying watching him play, and he's nodded, smiled a little to himself, but we're spending the time together quietly for the most part; not as journalist and subject, not as white fella and black fella, but as two dudes just sharing some quiet space.
After the almost stifling heat inside, I'm enjoying the brisk air, only wearing a light hoodie. Yunupingu though is wearing a huge jacket which makes him appear twice as wide as he actually is. He's quite short, slender. He smokes slowly, which is why it keeps going out. He seems in his own world.
Which he is. Over the three or four days I spend in the studio, as he and his team put the finishing touches to his second solo release, Rrakala, I don't really get a sense as to what that world is like, and I suspect many who spend fleeting time with the man don't either. All we can do it observe, listen. Watch how he moves, how he interacts, how he works. He is, as I noted in an article for The Saturday Paper in 2015, five years later after spending more time in the studio with him, a man of few words, and so he comes across as somewhat mysterious, a man on a trajectory that I couldn't understand if I tried.
That notion also plays out in reverse. Yunupingu, born on Elcho Island off the coast of Darwin, is a true Yolngu man and due to his cultural upbringing has no real concept of western life. He has no concept of the press, or of the music industry in which he finds himself, he has no understanding of the significance of appearing on the cover of Rolling Stone, aside from a love of the lyrics to that old Dr. Hook song. It's just not on his radar, and so me being there in 2010 doesn't register for him as, 'there's a writer from Rolling Stone in the studio', I'm just another body in the room. I could be from anywhere.
As a result of this lack of concept, Yunupingu isn't trying to impress people, he's not attempting to curry journalistic favour, he's not looking to win awards, he's creating in the purest form, because he has to, it's as simple as that.
In the article I wrote for Rolling Stone, which ran in April 2011, the same month Darwin-based label Skinnyfish Music released Rrakala, I wrote how refreshing this was. Over the course of my career as a music writer, I've interviewed hundreds and hundreds of musicians, and while many of them, the majority of them I hope, create because they have to as artists, none of them come within stone's throw of Yunupingu. He is the only musician I've ever encountered who can honesty say they are completely pure as creators. And it showed in his music, in the way if affected people across the globe.
***
It was 2008 when Yunupingu – guided by label-boss, bass player and longtime friend Michael Hohnen – released his eponymous solo debut. The powerful simplicity of this clutch of songs, the obvious meaning to him and his people they conveyed, and the angelic voice with which they were adorned, stunned a jaded music establishment. The music itself was nothing new, essentially folk music, but the way in which it was delivered was almost miraculous.
Rrakala was a calculated release – calculated by Hohnen and Skinnyfish co-director Mark Grose – which capitalised on the success the debut had here in Australia, and over in Europe. It was Rrakala that brought Yunupingu to America, helping raise his star even higher. The third solo release, The Gospel Album, released in 2015, came about, by comparison, almost by accident – once again at Byron's Studio 301, looking to pass some time before another album came together (a record of Yunupingu's songs, backed by a symphony orchestra was in the works at that point), Yunupingu started playing, Hohnen jumped to press record, and so that album, inspired by the Methodist gospel music Yunupingu was exposed to as a child, tumbled forth, appearing as if from nowhere.
I spent a little more time in the studio for this album, writing in this instance for The Saturday Paper, as I mentioned. As I noted in the subsequent story, "There was a different energy in the air, a raw excitement, an almost incredulity at what was happening." Where the Rrakala sessions were, for lack of a better phrase, serious business, The Gospel Album sessions pulsated with a sense of fun. Not that Yunupingu wasn't having fun in 2010, but this was free and seemed easy. By that point, he had nothing to prove and it was joyous.
Hohnen wanted Yunupingu to "blow off some steam" after the intense high this studio time would have given him, and so he and I organised a pop-up gig at the tiny Civic Hall in Mullumbimby, ten kilometres north-west of Byron. I took care of the details – my one and only stint as a promoter – and come the Wednesday morning, a few days later, Hohnen posted show details on Yunupingu's Facebook page.
People began showing up at around two in the afternoon, and a couple of hours later, as the sun set over another chilly sub-tropical winter's scene, almost four hundred formed a line which snaked from the Hall's front doors, down Dalley Street past the fire and police stations, almost to the post office down on the corner. I walked along the line, killing time before opening the doors, chatting with people I knew, really feeling the sense of excitement these people were exuding, along with a sense of almost-disbelief that they were about to see Dr. Yunupingu in such an intimate setting. Some people were in tears at the thought.
A little while later, in the tiny green room, Hohnen and Yunupingu arrived, the latter once again rugged up to ward off the chill, a smile on his face as he contemplated playing his songs – two of them brand new, only recorded in the days prior – to people in a warm little hall somewhere in the countryside with his friend by his side. I'd enlisted a rag-tag group of volunteers and a local sound engineer, Hohnen had put together a band. Just before going on stage, Yunupingu was bouncing on his feet, smiling, calm, ready.
The show was magic. Only an hour or so, it wasn't even so much a show as it was a small gathering. "One of the great things about that whole gig, was the community feeling," Hohnen recalled in my article. "We walked out at the end of it and said, 'We should do this everywhere in Australia'." Yunupingu came off stage grinning, Hohnen was grinning too, everyone was – it was a moment which captured all that had happened in that three or four day period; the music was so real and had been flowing so freely, it was just a joy to behold for all concerned, not least of all Dr. Yunupingu.
***
Yunupingu's passing in late July after a long battle with illness closed a chapter, but by no means ended a story. The music he created so purely has lifted the spirits of countless people, and will no doubt continue to do so. The man truly was on his own trajectory, and to spend even a little time with him was something special – his gift will certainly be missed, by people all over the world.